Security Center
At Wellby, protecting your personal information and money isn't just a goal. It's our responsibility.
We Work Hard to Keep You Safe and Secure
We use a variety of tools and services to help protect your accounts and personal information from identity theft.
Set up account alerts to be notified of withdraws or charges to your cards and accounts.
We monitor your accounts for suspicious activity or unusual spending habits.
A free identity theft recovery service - NXG|CARE Program - is available to all Wellby members.
Stay Protected from Security Risks
Wellby Protections
With constant account monitoring, secure messaging, and encrypted logins, your information is safe and secure.
Keep Your Information Private
Never share your account login or password with anyone, and shred documents you don't intend to keep in a secure location.
Suspect Fraudulent Activity?
Notify us right away so we can freeze your accounts and cards while we investigate the activity.
Manage Your Security
You can manage your account access and update your login passwords as often as you like to keep your information secure.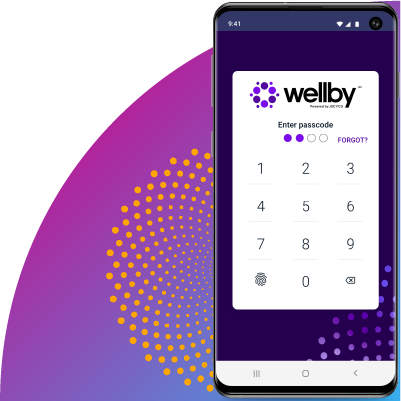 Select Your Privacy Options
You can determine how we communicate and share information with you, so you can be confident in knowing your conversations with a Wellby team member are secure.
Customize Your Security Alerts
Through the online banking portal, you can determine what type of account and security alerts you want to receive and how you want to receive them.
Deactivate your card by signing in to online banking or our mobile app. Go to Accounts > [Account Name] > Manage Cards. Or, select the account tile on the dashboard, and select Manage Cards.
Contact us immediately at (281) 488-7070 or (800) 940-0780, or via a secure message in the online banking portal or mobile app to cancel your card. You can also visit one of our branches.
If it's after hours and you are not able to deactivate your card using online banking or our mobile app, please call (866) 692-9364 to place an immediate freeze on your card. Contact us the following business day to cancel your card.
Security Center FAQ
Learn about the security services and programs we offer.
Learn More
Common Questions
What is Identity Theft Recovery Services?
How can I protect my personal & financial information?
How do I report potentially fraudulent charges to my accounts, debit, or credit cards?