Adjustable Rate Mortgage
Flexibility to get you into the home you want.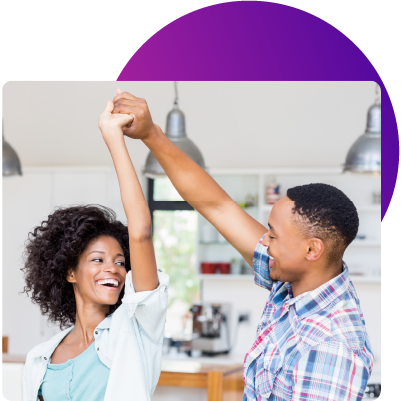 Lower Rates for Big Dreams
An adjustable-rate mortgage (ARM) provides additional flexibility by offering lower interest rates during your introductory term, giving you more buying power to find and own your dream home. With a variety of term length options, we can help you find an ARM option that fits your budget and financial goals.
A Mortgage That Fits Your Goals
An Adjustable-Rate Mortgage (ARM) offers unique benefits that might make it the right choice for your home loan.
Save money on your early monthly payments with a lower introductory rate than a fixed-rate loan.
Lock in your introductory rate before it starts to adjust, giving you more room in your budget.
With lower interest rates during the introductory term, an ARM is an excellent choice for investment properties or those looking to move again in a few years.
How to Apply for Your Adjustable Rate Mortgage
Step 1
Start your application online in minutes and receive your pre-approval letter.
Step 2
Shop for your home with confidence, knowing how much home you can afford.
Step 3
We'll guide you through the entire process, from submitting your documents, through closing day!
Term Lengths That Match Your Plan
A Wellby Adjustable Rate Mortgage is available in a wide range of term lengths. This gives you the flexibility to set an introductory period that aligns with your financial plan and locks in your interest rate for a set period before your rate begins to adjust each year.
Adjustable Rate Mortgage (ARM) Rates
Looking for Different Mortgage Options?
Speak to a Mortgage Specialist
Our mortgage specialists are here to answer your home loan questions. Schedule your appointment today!
Contact Now
Adjustable-Rate Mortgage FAQ
Learn more about adjustable-rate mortgage options from Wellby.
Learn More
Common Questions
What is an adjustable-rate mortgage (ARM)?
How do I apply for a Wellby adjustable-rate mortgage?
What is private mortgage insurance (PMI)?
Will my interest rate ever change with an adjustable-rate mortgage?