Youth Checking
Put your child on the right financial path with a Wellby Achievement Card or Early Start Card.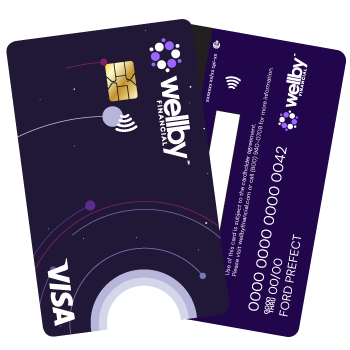 Banking Together Has Never Been Easier
Our youth checking accounts are ideal for the family who knows it's never too early to prioritize financial well-being. The Wellby Early Start Card (kids aged 4–12) and Wellby Achievement Card™ (teens aged 13—17) grant access to a linked checking account jointly owned by a parent or guardian.
An excellent option for families. With a $0 monthly service fee, your child will be set up for a successful financial future with no hidden fees.

Joint ownership means each account is opened jointly with a parent or guardian 18 years or older, allowing full access to the youth account.
Low initial deposit means your child can start their checking account with no minimum balance required after opening.
Help Your Kids Learn to Manage Their Money
Build good money habits with hands-on learning by receiving account notifications, transaction alerts, and balance statements so you can build and monitor their budgets together.
Parental Monitoring and Controls
Monitor your child's checking account alongside your primary accounts directly from the Wellby mobile app or online banking portal. Set account notifications and alerts so you can track transactions to prevent overspending and develop healthy financial habits.
Transferring Money is a Breeze
Want to add their birthday money or allowance directly into their account? You can quickly and easily transfer money directly into your child's checking account from one of your primary accounts right from your phone or online.
Mobile-Friendly Access for Your Child
Your child's mobile device can help them build healthy financial habits through easy-to-use account monitoring. Checking their balance, budgeting, and tracking savings goals is easy with access to our mobile banking app. Our mobile app also grants access to their digital wallet allowing teens who are on the go full access to their funds even if they forget their card at home.
Contactless Visa™ Debit Card
Your child's account will come with a contactless Visa™ debit card, so they can access their funds for day-to-day transactions. Their card also gives them access to 55,000+ fee-free ATMs while still providing the fraud recovery and security you expect from a standard Wellby Checking account.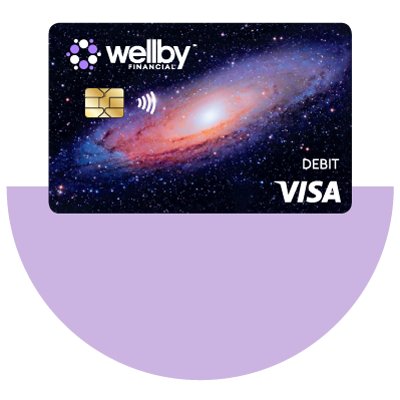 Compare Checking Accounts
| Product | Wellby Spending | Wellby Spending Plus | Wellby Secure Spending | Wellby Achievement Card | Wellby Early Start Card |
| --- | --- | --- | --- | --- | --- |
| Initial Deposit | $25 | $25 | $25 | $10 | $10 |
| Monthly Fee | $0 | $10* | $6** | $0 | $0 |
| Debit Card & Online Bill Pay | | | | | |
| Checks | | | | | |
| Overdraft Protection | | | | | |
| Overdraft Steward | | | | | |
| ATM Services | | | | | |
| Identity Theft Recovery | | | | | |
| Expanded Identity Theft Protection & Mobile Phone Coverage*** | | | | | |
| | | | | | |
Let's Get Started
You're just a few clicks away from starting your new financial journey.
Let's reach your dreams together.
Youth Checking Accounts FAQs
Learn how a Wellby Early Start or Achievement Card can help put your child or teen on the path to financial well-being.
Learn More
Common Questions
How do I apply for a Wellby youth checking account?
Do Wellby youth checking accounts include account monitoring?
Can I manage my Wellby youth checking account online?