Preparing Your Home & Finances For Hurricane Season
July 12, 2022
By Team Wellby
We are all too familiar with the devasting impact that a hurricane can have on our lives and community. With the memory of Hurricane Harvey still fresh in our minds, many families throughout the Houston area would like to prepare themselves for what to do if, or when, the next storm comes our way.
As we move into hurricane season, we want to make sure you're prepared in case of an emergency. This includes preparing your family to remain safe during a hurricane, how to evacuate quickly and safely if needed, but also how to protect your belongings and property, and having an emergency fund for easy access to cash.
We'll cover several planning tips that can help you prepare for hurricane season and be ready in the event of an emergency. We recommend using this information prior to an oncoming storm and be sure to follow any instructions provided by local officials in regards to evacuations or procedures to follow during a storm.
Hurricane Insurance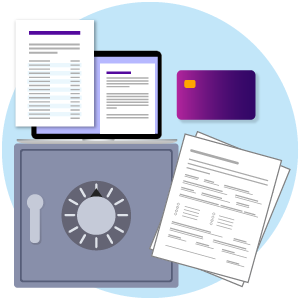 Hurricane insurance is often a supplement plan that is added to a home insurance policy to add an extra layer of protection to one's coverage. However, the average monthly premium for homeowners insurance is already $155 in Texas, so you should evaluate if the additional cost will fit into your budget. Many homeowners discover that the cost is well worth it when they are faced with the overwhelming costs that can come if a hurricane damages their property.
Let's create an example scenario to help best illustrate the reason why homeowner's insurance is something worth considering:
You own a home with a value of $250,000 in the Houston area and intend on living in that home for the remainder of your life.
You have a 30-year mortgage on the home.
You get homeowners insurance with an extra hurricane insurance rider for an additional $20 per month.
You are paying a total of $175 per month for homeowners insurance with the extra hurricane coverage.
In the entire 30-year timeframe that it takes you to pay off your mortgage, you will have paid $63,000 in homeowners insurance premiums.
This $63,000 is against the $250,000 value of your home - a value that is likely to increase significantly over those 30 years.
In short, if you are in the unfortunate position of a hurricane completely destroying your home, you would be covered for the entire value of your home with the proper insurance policy. You would only incur the cost of approximately 1/4 of the original value of your home, but you would receive the entire value of your home prior to its destruction. Depending on your plan, the amount you recover from the policy may assist in replacing furniture, vehicles, fixtures (such as fencing or screening), and other items on your property that are tied to your home.
Prepare Some Extra Savings (Money, Food, and Water)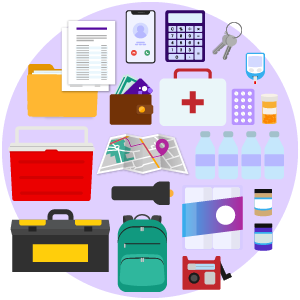 One of the biggest issues that people who experience hurricanes face is being "stuck" in the storm. Whether they are unable to evacuate or were able to leave the immediate area and are now staying in a different town or state, they found themselves physically stuck in some cases. This quickly turns into an emergency situation for some as you may have limited or no food, water, or cash reserves in the event of water lines being damaged or power outages. This highlights the need to have an emergency evacuation plan ready to go.
You should start with an emergency evacuation plan and have it ready ahead of time. This way, you and your family will have a planned route to take and a meeting place in case anyone gets separated during an evacuation. Creating an evacuation plan can also allow you to plan what everyone will need to bring with them, such as extra food, water, gasoline, emergency supplies (flashlights, matches, first aid kit, etc.), and cash.
With an evacuation plan in place, the next step is working on food and water storage. Make sure you store bulk foods that are non-perishable and several gallons or bottles of sealed water for use during the storm in case electricity or water lines are not usable. Also, try to store the food as high in your living space as you possibly can - such as in an attic or top shelf of a pantry. This way, if any part of your home floods during the storm, your food and water are less likely to get ruined.
On top of emergency food and water, it is recommended that each home has a small amount of gasoline as well. This should be stored in a safe container and location to be used for generators or as emergency fuel during evacuation if you run out with no access to a gas station. If an evacuation occurs, traffic may keep you on the highways without the ability to refill your car for long periods of time, so carrying a few gallons extra in a safe container and away from your food and water can help keep you on the road when you need it.
Everyone living in your home should know where these supplies are stored in case they need quick access to them during an emergency or when preparing to evacuate.
Last but not least, make sure to keep some cash with these emergency supplies. While many of us rely on credit and debit cards for day-to-day purchases, power or internet outages may cause card readers to be unavailable at grocery stores or gas stations, so being able to pay with cash can make a world of difference while you're evacuating or trying to purchase additional supplies
Prepare for a Loss of Income
Losing one's income as a result of a hurricane is perhaps the most difficult challenge of all of this and something many of us may not think of when facing a large storm. It is one thing to deal with losing one's home or possessions. It is something else entirely to lose access to one's income and ability to support yourself. Sadly, when hurricanes knock out homes, they also knock out businesses. This means that those who are most directly impacted by a hurricane may also lose their job as well, at least temporarily.
If your budget permits, you should try to keep an emergency fund at all times. It is recommended that you have approximately 3-6 months' worth of expenses saved so you can use these funds after a storm in case you can immediately return to work. Getting your savings built up to that point takes time, though, and that is why it is better to start as soon as possible.
Be Prepared and Be Safe
Hurricanes can be unpredictable, which is why preparing for hurricane season ahead of time is key to helping ensure you, your family, and your home is safe in the event of a storm. Our primary mission is to help our members plan for the financial impact a storm may take and help you get back to normal life as soon as possible following severe hurricanes.
If you're interested in starting an emergency savings fund, you can apply online or a Wellby team member will be happy to discuss your plans with you and help create a savings plan that fits your needs and budget so you can be better financially prepared in the event of hurricane damages.
About the Author
Team Wellby is a diverse team that is here to help you find the right financial solutions for your unique goals and budget. Our passion is people: our members, team members, and the communities we serve. We help people find solutions that support their financial well-being, allowing them to dream and prosper.
Related articles you might like
July 12, 2022 | by Team Wellby
3 Steps to Create a Monthly Budget After College
May 26, 2022 | by Travis Sink
Getting Close to Retirement? Here's How to Prepare Financially
May 16, 2022 | by Briana Strother
How to Start Saving For Your Child's College Education