Credit Union National Association (CUNA) Recognizes Wellby Financial Rebrand
August 22, 2022
By Team Wellby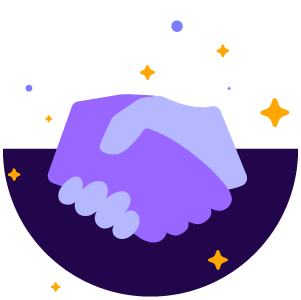 A prominent financial services association, the Credit Union National Association (CUNA), has recently awarded our Wellby Financial rebrand efforts. Although these awards highlight our new brand, logo, and member-focused videos, they truly recognize our dedication and commitment to the members who inspire us, the communities we are honored to serve, and the unique legacy of our brave founders.
Since our formation in 1961 to support employees of Johnson Space Center and their families, we've placed our valued members at the forefront of our purpose, and we strive to help them reach their unique financial goals. As the Houston area has grown and thrived over the past 60 years, so has our Credit Union. While we will always remain rooted in our history and connection with the space community, today, we serve all people across greater Houston.
We recently embarked on a purposeful and strategic journey to provide an unparalleled service experience for our members. Throughout that journey, we remained true to our foundation, keeping our members at the forefront of every thought, idea, decision, and action. We upgraded our technology, updated our products and services, and unveiled new member-focused services.
Along with this enhanced member experience came a new brand name, Wellby, to honor our commitment to financial well-being and pave the way for the next chapter in our 60-year history of service to Greater Houston. With our new name came a new logo, honoring both our unique legacy and our members' dreams for the future.
The Wellby logo is inspired by the Andromeda spiral galaxy, a firmly bound system of stars, our closest neighbor in the universe, and a long-held symbol for those dreaming of exploring new frontiers. We want every Wellby member to reach for the stars as they work toward and achieve their dreams.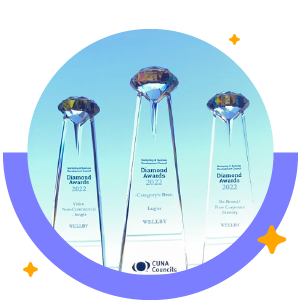 After launching our new Wellby brand, we submitted some of these marketing efforts to the CUNA Marketing and Business Development Council for award consideration. With nearly 1,200 entries across 35 categories this year, we are humbled to have received three Diamond Award designations in the categories of Best Logo, Best Re-Brand/ New Corporate Identity, and Best (non-commercial) Video.
These awards reflect countless hours of effort by our incredible Wellby team members to ensure that this next chapter in our organization's legacy of service reflects the dedication and commitment we have to our members and our unique and powerful history.
As Wellby, we continue to honor the attributes of our founders – bravery, drive, ingenuity, and care – and strive to embody them as we support our members' financial journeys toward well-being. As we look confidently ahead, we dedicate every day to serving our valued members, helping them achieve their financial goals, and supporting them as they strive to make their dreams a reality.
Interested in learning more about the unique Wellby member experience we offer? Check it out, and see how Wellby can help you not only plan your big dreams but bring them to life.
About the Author
Team Wellby is a diverse team that is here to help you find the right financial solutions for your unique goals and budget. Our passion is people: our members, team members, and the communities we serve. We help people find solutions that support their financial well-being, allowing them to dream and prosper.
Related articles you might like
August 26, 2022 | by Team Wellby
Higher Dividend Rates to Support Your Financial Well-being
January 18, 2022 | by Team Wellby
A Bright Future and a Better Banking Experience