8 Tips For Smarter And Safer Online Shopping During The Holidays
December 5, 2022
By Travis Sink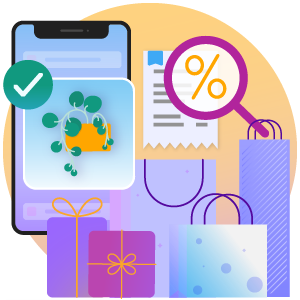 As the holiday season sets in, we are all rushing to stock up on holiday supplies. We want to have the best holiday possible and give the best gifts to our loved ones. But with all the festivities and the deals that seem too good to be true, you want to manage how much you spend while also staying aware to prevent fraud and avoid scams during the holidays.
That's why we've compiled some essential tips for smarter and safer online shopping this holiday to avoid overspending while keeping your financial information safe. We'll discuss some best practices for online shopping security and some guidelines you can follow to ensure you have the happiest of holidays!
How to Get the Most Out of Your Holiday Shopping Budget
It's important to set a budget for your holiday shopping, and if you shop smarter, you can still enjoy the festivities of the holidays without the stress of overspending.
#1: Use Online Shopping to Find the Best Deals
Are you afraid of missing out on the big Black Friday deals when you shop online? Times are changing, and retailers are moving with the trend. The same offers you find in-store are often available online, sometimes with better deals and perks like free shipping.
Check out online deals during big sales; you might land amazing deals. Keep reading to find ways to make the online shopping process safer, easier, and faster for a great shopping experience!
#2: Using Apps to Track Deals
Apps and browser extensions like the PayPal Honey extension can be handy during the holiday season. We love the PayPal Honey extension because it can help you find online coupons that you can combine with special deals. The extension also lets you know if the offer is a real deal or if the item has been cheaper in the past few months.
With this knowledge, you can better decide on great deals and better gift options. When looking for a "doorbuster" deal, you can first review it online, check its previous prices, and determine if it's worth your time and energy at the store.
#3: Look For Deals All Season Long
There are great deals on Black Friday and Cyber Monday. However, most retailers start their sales well ahead of the season and extend sales up to the holiday. Start by preparing a list of items you would like to purchase. Some may be on sale at the most unexpected time. By having extra time to buy gifts, you can find lower prices online by checking a wide range of deals.
Continue watching sales even after making your purchases. You could return and repurchase an item if the price drops significantly toward the holidays.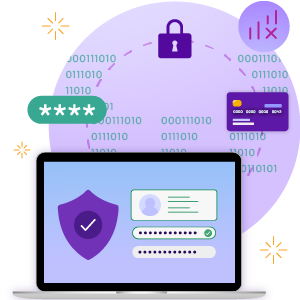 #4: Bookmark Online Items
Bookmarking product website pages can help you save time and money when shopping online during the holidays.
When you bookmark products you intend to buy;
You can easily return an item you have bought when the price reduces significantly.
You can follow the sale price to see when the deal is better
You can watch for restocks if the item is sold out
You can comparison shop efficiently when you bookmark the same item from different retailers once sales start rolling in.
We all want to spend more time with friends and family over the holidays and online shopping is an opportunity to get some time back.
How to Keep Your Financial Information Safe During Online Shopping
Online shopping is a lifesaver for most of us, especially those with tight schedules. Even if your schedule isn't that tight, shopping online is still ideal, especially with the many amazing deals available during the holidays.
As online shopping increases for the holidays, so does the risk of scams, as fraudsters find new ways to steal your money. You must be cautious and alert to keep your finances and financial information safe as you shop online. Let's look at some essential tips to protect yourself while shopping online.
#1: Only Shop from Trusted Websites
Shopping online can be your best option for saving time and money during the holiday season. However, beware of deals that seem too good to be true. Many scammers and untrustworthy websites take advantage of the holiday traffic to offer outrageous deals or top items like electronics. Reality hits when it turns out to be a scam, and no goods are delivered after payment.
Shopping on familiar websites rather than trying new and unverified sites would be best. Avoid making suspicious purchases to protect your credit card information and save yourself from becoming a victim of scams.
Check for the Better Business Bureau logo on the site, social media presence, and scam alerts in the BBB's directory to ensure you can trust the site.
#2: Avoid Using Unsecure Networks
With fast Wi-Fi being offered to nearly everyone, it may be tempting to do some holiday shopping on the go. Avoid shopping while using Wi-Fi in a coffee shop, restaurant, or unsecured network. These networks often open doors for hackers or scammers to try to gain access to your financial information.
While you can use a VPN on your phone, among other options to protect your information, it's safest to do your online shopping from home with a secured network.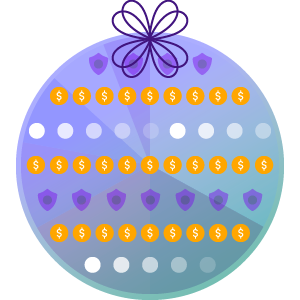 #3: Update Your Account Passwords
We can't emphasize the importance of updating your account passwords enough. Given the increased number of digital attackers during this time of year, there is no better time to do so. After completing your online shopping for the season, keep your financial information secure by updating your current passwords.
By switching to a different and stronger password, you'll have added extra protection for your personal and financial information.
#4: Avoid Sketchy Emails
While this should be an everyday safety tip, you must be especially vigilant during the holidays. Spam emails will flood your mailbox from shady senders or those with outrageous deals. For your safety, do not open any such emails, click on suspicious links, or fill out any forms that aren't on a trusted website.
Stay Safe & Under Budget
Shopping online remains the ideal option during the holiday season for many, but it is paramount as long as you stay alert to avoid the preying eyes of fraudsters. Follow the tips we've shared to stay under budget during the holidays, get everyone the most excellent gift, and be safe as you do it.
With a Wellby Secure Checking account, we can help you manage your spending during the holidays and beyond. Our account allows you to manage your day-to-day spending while earning dividends. You can also set up notifications on your debit card to alert you to any potential fraud charges, keeping your holiday budget and financial security more secure..
Spend Mindfully
Budget Successfully
About the Author
Travis Sink is an Ohio native who flew south for the winter in 2014 and never went back. An avid consumer of all things from the tech and financial industries by day, he spends his evenings relaxing with his wife and dogs either reading, playing sports for local rec-leagues, or learning how not to burn dinner again.
Related articles you might like
December 29, 2022 | by Travis Sink
New Year, New You. Resolutions to Build Your Financial Well-being
November 23, 2022 | by Travis Sink
How to Get Ahead of Spending & Budgeting For the Holidays
October 31, 2022 | by Team Wellby
Improving & Maintaining Your Credit Score