Moving Your Money
Your life needs flexibility. So do your finances.
Flexible Transfers Between Financial Institutions
Transferring funds between your Wellby account and any of your external financial institutions requires options that work for you. We provide safe and secure external transfers that give you the flexibility to send your money where you need it, whenever it fits your schedule.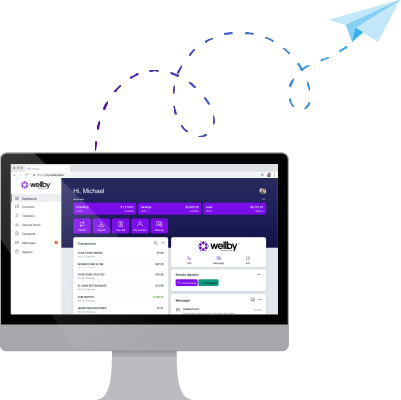 Your Money, Your Journey, Your Way
From where you keep it to where you need it.
Fund your new Wellby account with a simple and secure transfer via your online banking dashboard.
Schedule a single, recurring, or future transfer to meet your needs.
Send money to and from any financial institution to your Wellby account with ease and security.
External Money Transfer Process
Step 1
Log in to the Wellby online banking portal with your secure login and password.
Step 2
Select "Transfers" from the dashboard or menu. Follow the steps to add a new external account, or select an existing external account.
Step 3
Select how much money you'd like to transfer and then submit. It's that simple!
Need to Send a Wire Transfer?
Wire Transfer Funds from Your Wellby Account
You can complete a wire transfer at a branch or over the phone.
Incoming Wire Instructions for Wellby
Financial Institution Name: Wellby
Financial Institution Address: 1330 Gemini Houston, TX 77058
Routing/ABA Number: 313083992
Member Account Number: Member Number + Share ID

Example: 12345678-1000; 12345678-1100; 12345678-1001
Note: Incoming wires are processed Monday - Friday from 9:00am - 5:00pm CT. To check the status of an incoming wire, please contact the sender.
Let's Get Started
You're just a few clicks away from starting your new financial journey.
Let's reach your dreams together.
Moving Your Money FAQs
Here are some common questions about making transfers between Wellby accounts.
Learn More
Common Questions
How long does it take to complete a funds request transfer?
Can I cancel a money transfer request after it's been submitted?
Do I need to visit a branch to request a money transfer?