Mobile Payments
Send payments directly from your account with the Wellby mobile app.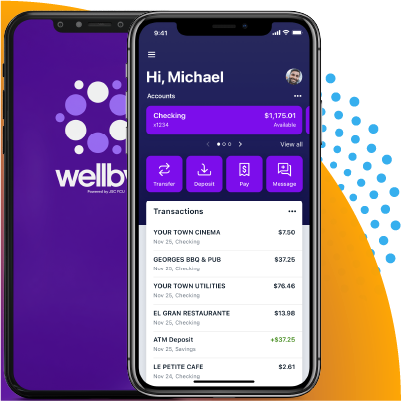 Send Payments in Minutes
Making payments to friends, family, or for a product or service is simple with the Wellby mobile app. You can easily monitor all your transactions in one place, without needing third-party apps.
Fast, Safe and Easy
Send payments seamlessly
Safely send payments directly to a company or to a person.
Pay bills without the hassle
Make one-time payments to businesses and people or schedule recurring future payments.
No need for third-party apps
Using the Wellby mobile app, you can send your payments directly for fast delivery of your funds, right on your mobile device.
Set Up Your Mobile Payments in Three Steps
Step 1
Open your Wellby Mobile app and select Payments in the menu.
Step 2
Select "+ Add a payee" to add a company or person for payments.
Step 3
Confirm the amount you wish to send and select submit.
Let's Get Started
You're just a few clicks away from starting your new financial journey.
Let's reach your dreams together.
Mobile Payments FAQs
Learn how to save time and make hassle-free payments with the Wellby mobile app.
Learn More
Common Questions
Who can I send funds to with the mobile payments feature?
Will I receive a payment notification for my transaction?