Take Your Savings Further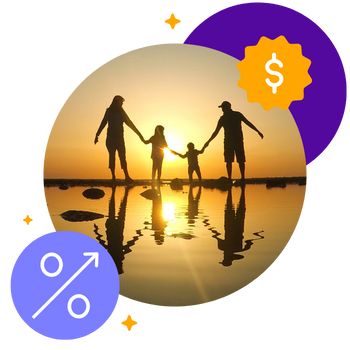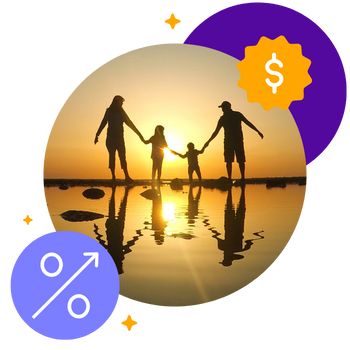 Double Your Savings Rate to Earn Up to 4.08% APY* on a Savings Plus Account When You Pair it with Any Wellby Checking Account**
We know that you have many options to choose from when it comes to banking and saving for your future. The Wellby Saving Plus high-yield money market account allows your money to work smarter as you spend for today while saving for tomorrow.
Pair your Savings Plus account with any Wellby checking account and double your savings rate** to earn up to 4.08% APY*.
Our checking accounts offer a wide selection of no-cost features and services designed to fit your lifestyle, and a Wellby Savings Plus account is the perfect addition with expanded benefits and higher flexibility without locking you into a specific term, all designed to help support your financial goals.
We make it easy to open a high-yield account:
Open your account in minutes by completing the online application.
Start earning on your deposits.
Begin using your account and enjoy all the benefits Wellby has to offer.
Don't settle for an account that won't give you the return you need for the future you want. Feel confident in savings that grow and know that we will be here to support you at every step of your financial journey.
Savings Plus and Checking Account Rates
This offer is subject to change without notice. Wellby has the right to cancel or change this promotion at any time.
*APY = Annual Percentage Yield. APY is accurate as of 3/1/2023. The APY is a percentage rate that reflects the total amount of dividends to be paid on an account based on the dividend rate and frequency of compounding for an annual period. Dividend rates and APY for a Savings Plus account are variable and can change at any time. The NCUA insures individual accounts up to $250,000.
**To qualify for the double bonus rate, you must have an active Wellby checking, which requires monthly direct deposit of at least $300, online banking registration, eight debit card transactions per month, or $40,000+ in lending balances with Wellby (excluding credit cards). If the checking account no longer qualifies as active, you will receive the regular posted rate for your savings balance tier. A savings account with a starting balance of $1,000 and a monthly deposit of $300.00 for 12 months at a bonus rate of 2.02% APY will earn $59.16. Fees could reduce earnings on the account.
A Primary Savings account is required for new members, which includes membership share and has a minimum balance of $5 to open the account.
JSC Federal Credit Union does business as Wellby Financial ("Wellby Financial" or "Wellby"). By doing business with Wellby Financial, you acknowledge that you are doing business with JSC Federal Credit Union. This offer is subject to membership eligibility. You are eligible if you live, work, worship, attend school, or do business in the Greater Houston Metro or Galveston area. You can also join Wellby if you are an employee or member of one of the 2,000+ companies, organizations, churches, homeowners' associations, or areas of community service in our field of membership or are an American Consumer Council member. You may also be eligible to join if you are an immediate family member or live in the same household as a current Wellby member.