Financial Flexibility When You Need It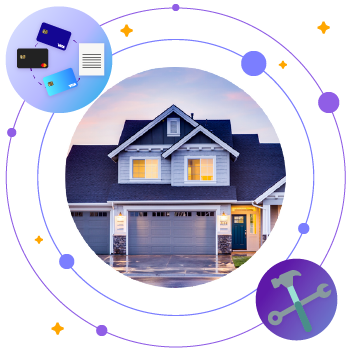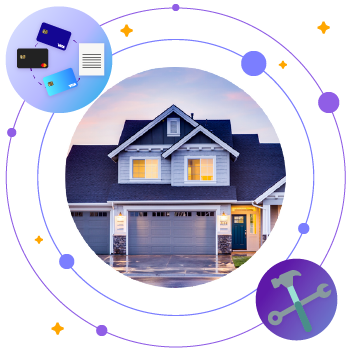 Use Your Home Equity Line of Credit
At Wellby, we know that life can be unpredictable and that even planned projects require readily available funds when needed. A medical bill, college tuition, or home improvements are all expenses that can add a strain on your finances.
We understand the importance of financial flexibility that allows you to access your funds when you need them most. That's why we offer a Home Equity Line of Credit (HELOC), a revolving line of credit secured by your home's equity.
A Wellby HELOC typically provides lower interest rates than credit cards or personal loans and gives you the funds you need for planned or unexpected expenses.
Here's how to begin your journey toward financial flexibility:
Complete an easy online application.
Our lending specialist will assist you with choosing the right terms for you.
Use the funds whenever you need them!
Don't let unexpected expenses stretch your budget past your comfort zone. Apply online today, and be prepared for anything that comes your way!
*APR = Annual Percentage Rate. The variable rate is based upon The Wall Street Journal Prime Rate ("Prime") minus a margin and will vary with Prime. Your APR will not exceed 15.00% or go below 3.00% at any time during the term of your account. APR may vary based on the initial draw, actual CLTV, property value, property location, line amount, and other factors. The term of a HELOC is 30 years: 10-year draw period, 20-year repayment period. The variable minimum monthly payment during the draw period will be 1.25% of the outstanding balance each month or $100, whichever is greater. The monthly required payment is based on your outstanding loan balance and current interest rate (interest rates can increase or decrease) and may vary each month.
Other terms, fees, and restrictions may apply. Qualifying rates may be based on a combination of your credit score, collateral, loan-to-value (LTV) position, and other normal lending criteria. Property insurance is always required, and flood insurance is required where necessary. Certain property types are not eligible collateral. You should consult your tax advisor regarding your possible tax implications. Rates are subject to change.
Additional Information for HELOCs in Texas subject to Section 50(a)(6) of the Texas Constitution: Early Closure Fee does not apply. The minimum advance is $4,000, maximum CLTV is typically 80% and maximum LTV is typically 80%. Access to the HELOC account using an ATM card or other access cards is not allowed.
JSC Federal Credit Union does business as Wellby Financial ("Wellby Financial" or "Wellby"). By doing business with Wellby Financial, you acknowledge that you are doing business with JSC Federal Credit Union. This offer is subject to membership eligibility. You are eligible if you live, work, worship, attend school, or do business in the Greater Houston Metro or Galveston area. You can also join Wellby if you are an employee or member of one of the 2,000+ companies, organizations, churches, homeowners associations, or areas of community service in our field of membership or are an American Consumer Council member. You may also be eligible to join if you are an immediate family member or live in the same household as a current Wellby member.